DESCRIPTION
Versatile balloon inflator.
Specially designed for foil balloons but also perfect for latex balloons. 

Easy, hands-free inflation!
Uses Premium's patented "Cool Aire® Technology" to inflate with cool air.
Special nozzles provide proper inflation pressure for all balloons.
Special suction-cup feet secure FoilPro® during inflation.
Comes with set of Nozzles for different shapes and sizes of balloons.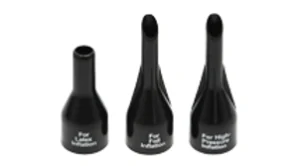 SKU 98004 FOIL PRO 230V EU
SKU 98005 FOIL PRO 230V UK
SKU 98030 FOIL PRO 120V USA
SKU 98031 FOIL PRO 230V AUS